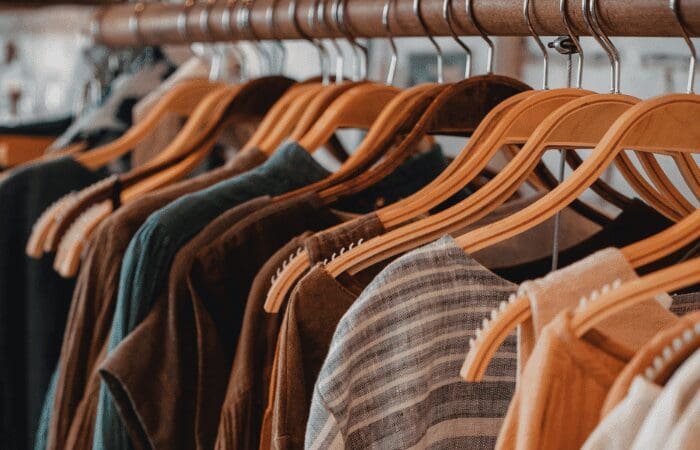 At the time when promoting the circular economy is more necessary than ever, do you really know what are the most ecological materials, especially for your bags and clothes?
There are many materials; Bio-based, biodegradable, compostable….
We help you in this article to see more clearly!
Before that, it is important to highlight a point which we do not speak enough: the lack of recycling sectors, especially in France.
For example, in 2020, only 33% of the clothes used in France were collected for recycling.
Fortunately there are some materials which are easier to recycle, what are they ?
Cotton among the favorite textile fibers. However, is it so eco-friendly?
Environmental preoccupation promotes the enthusiasm for natural materials as the cotton.
This bio-based material makes it possible to design textile, bags, and many other products.
Nevertheless, it is necessary to know that the production of cotton is not without impact on our environment. The culture of cotton requires in particular a large amount of water, and generally a large amount of pesticides.
It is therefore important to ensure that we use GOTS certified biological cotton, just like the bags and textile products that we offer!
If the association of several materials in the same product complicates its recycling, cotton has the advantage of being able to be recycled in Europe. Cotton recycling obviously requires much less water than its initial production, and above all no pesticides.
Products made from recycled cotton can contain up to 70%.
Before recycling a product that you no longer use, remember that it is always more ecological to promote the second-hand (or the upcycling)!
Polyester, a material to avoid?
Polyester is a synthetic fiber from petrochemicals. It represents 70% of artificial textile fibers used in clothing.
This matter, much appreciated for its solidity, is often criticized because it is manufactured using very polluting chemicals. It also diffuses plastic microparticles in our washing machines and therefore in the oceans.
What about recycled polyester?
Recycled polyester is made from used clothes, fabric falls, also plastic bottles (RPET). Given like that, it's a very good option to clean the oceans!
Products in RPET, like our shopping bags, are recyclable to 100%.
Nevertheless, recycled polyester still presents some negative aspects.
Polyester loses in particular in quality when recycled. This is why it is particularly difficult to design a product in recycled polyester without the slightest addition of virgin matter.
Another negative point: clothes in recycled polyester emit as many microparticles as polyester clothes when washed. This material is therefore more suitable for products that you wash less often (like bags).
If you can, favor as much as possible natural materials for your clothes.
Paper: one of the most recycled materials
Carton paper is one of the more recycled materials with a recycling rate of around 72%.
Did you know that it is possible to recycle the paper up to 7 times?
After being collected, the paper is stored in a center in order to be crushed and then dissolved in water and adjuvants. Then, the glitter obtained went to sieve and undergo chemical and thermal treatment in order to remove the ink. Last step: once dried, the latter are transformed into a new paper coil.
Recycled paper allows to produce bags, envelopes, corrugated cardboard or hygienic paper and handkerchief.
To preserve our environment, be sure to sort your papers, magazines, and others recyclable materials, in your bin provided for this purpose.
It should be noted that materials damaged by humidity and stains cannot be recycled. These ones should therefore not be thrown into your selective collection bin, at the risk of degrading the fibers of your other recyclable waste.
It is obvious that there is no material perfectly eco-friendly.
However, it is important to ensure that the production of our products is not too energy -consuming, and that our products are biodegradable or compostable. We must also rethink our consumption mode: reuse then to recycle.
If the recycling sectors tend to develop, they are currently unable to deal with the phenomenon of overconsumption. Also keep in mind that a product is not infinitely recyclable. Therefore, the best solution will always be consume less !
Do you want to act in an eco-friendly way? Some tips :
Only buy the products you really need;
Make sure they are eco-friendly (production and end of life);
Reuse as much as possible;
Upcycle if possible;
Think second-hand;
Failing: recycle.
Sources:
La Voix du Nord
Citeo
Wedressfair