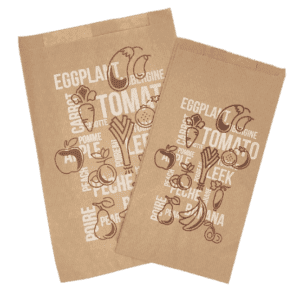 Objective: disposable zero plastic by 2040, an ambitious project! France activates by placing small to small plastic product for single use. Since 1er January 2022, these include fruits and vegetables less than 1.5kg that can not be overwhelmed from disposable plastics. So, other greener alternatives grow. Let's discover them!
PBAT and PLA: the option for a compostable bag
Did you know that there are compostable bags ? This is the case of Sachets for fruits and vegetables that you find in the shops. You can indeed drop them in your compost after use, while obviously respecting the composting conditions (see our previous article).
For your fruits and vegetables, we offer you sachets designed from PBAT and PLA (corn starch) 100% compostable at home! Although you can reuse them, these bags are generally for single use. So you can drop them directly into your home composter.
We can customize your bags in PBAT and PLA from a few pieces, even if the customization of this type of product is poorly generalized.
The Kraft bags remain thethe most environmentally friendly option To pack your fruits and vegetables. These last are reusable Up to 10 times! And that's not all …
Our kraft bags are eco-designed from Classic FSC material or mix (recycled). They can also be recycled up to 7 times or composted !
We can easily customize your kraft bags with water-soluble inks. That's a great eco-responsible solution, What do you think ?
Last solution for packing your fruits and vegetables: our Biosourced bags in cotton and certifiable GOTS! Biodegradable and recyclable, we can easily Customize to your image.
Do you prefer the nets? Or more tightened meshes? Everything is achievable!
We accompany you to produce your Custom cotton bags. We can also customize our standard bags to your image in France, this from a few pieces!
We offer various eco-responsible seaching solutions for your fruits and vegetables. Bags in Pbat and Pla? Or rather kraft or cotton? We invite you to share your needs in order to find together the best adapted products!
Environmentally friendly bags to your image, reusable and recyclable, what better for your communication?
Sources: