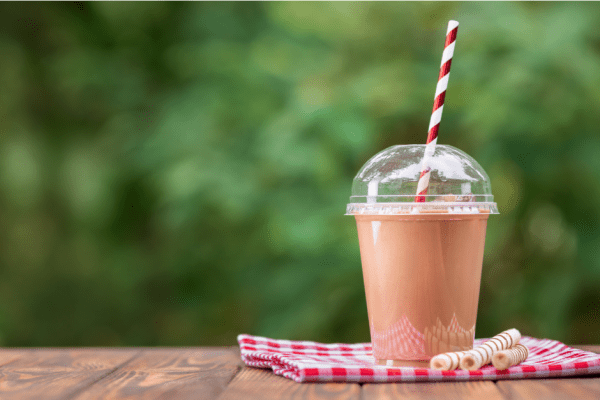 PLA is a natural vegetable material perfectly suited for your food containers (drinks and cold dishes) and even some bags!
The Placity (polylactic acid) is a bio-based polymer made from sugars or corn starch via lactic acid synthesizing by bacteria. This material is biodegradable in industrial composting center (temperature and controlled hygrometry).
Plating applications varied: surgery, 3D printing, bags, but above all (what interests us here) in theEco-responsible food packaging. This polymer can be used to manufacture Fruit and vegetable nets, the cups for takeaway drinks, boxes for meals delivered at home, Covered or the straw !
The advantages of the PLA
As mentioned earlier, the PLA is a biosourced material, made fromcorn starch, Plant and renewable resource.
By the way, the PLA is also biodegradable and compostable in industrial environment. In order to accelerate its natural degradation, the PLA is placed in a medium whose temperature and humidity are adapted and favorable to its natural decomposition.
The material is thus a Eco-responsible alternative Classic food packaging used in catering delivered or take away or in some food shops.
One cup Polyethylene plastic or polypropylene can thus be replaced by a PLA cup. It's the same for the salad box where the sushi tray. His seamlessness is also very appreciable when it is important to see the content of the packaging.
Finally, the PLA is also used to produce the Eco-responsible tableware : Straw, fork, knife, spoon, with a very good strength.
Despite these many advantages, PLA also has its limits.
First disadvantage: SA Low heat resistance. Indeed, beyond 40 ° C, the PLA tends to deform under the effect of temperature. It is therefore important to Transport and store your PLA products protected from heat and sunlight.
It also limits its use in terms of food packaging to Food and cold drinks. Fortunately, there are today other eco-responsible food packaging alternatives for hot and hot dishes such as kraft or bagasse.
Second element, the PLA is Composable in an industrial environment, but not at home (Home Compost). This means that apart from adapted conditions, it does not degrade and becomes a polluting material in the same way as a plastic of fossil origin.
In France, unfortunately, the treatment chain of this plant polymer is only very poorly developed. Very often alas, the PLA is therefore not composted but treated classically with other waste. Many countries have invested in "bioplastics" and their Reprocessing and composting channels, allowing PLA to be used in the best conditions. Hopefully France will engage in the same path.
Some experiments have already occurred, including by the company Citeo and the alchemists, whose results were very encouraging (full article: https://www.citeo.com/le-mag/emballages-en-pla-un-1er-test-pour-comprendre-les-conditions-de-leur-compostage/).