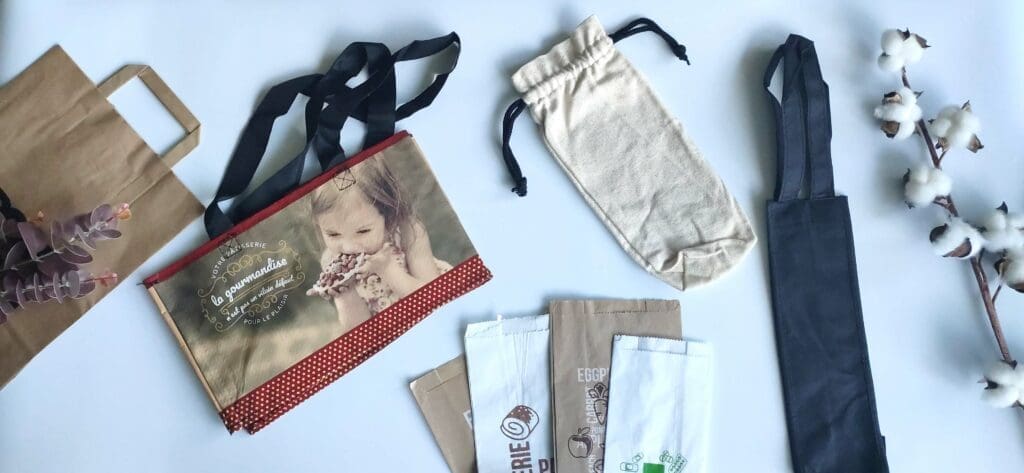 Choose the material and the format, get a bag 100% customized in your image! The 100% winning bet to increase your visibility for years!
The Cutomized shopping bag is a very effective communication tool, ideal for increase your visibility at a lower cost. Often abandoned in relation to increasingly digital means of communication, it nevertheless constitutes a advertising tool which allows you in particular to highlight your ethical values. To do this, we support you in order to choose the material environmentally friendly which corresponds to your needs (kraft, cotton, jute, etc.) ! Let's see in more detail how to develop your sales thanks to your tailor-made bag.
Customization: a real marketing tool
You are used to using your shopping or tote bag to go shopping? Or to the beach? Well, many of us do the same! The bag is the essential accessory for walking, reusable for years.
So imagine this customized shopping bag in your image, reused 5 times a month for 6 years … Your name and your logo will be seen in the end … at least 360 times! "At least" because you can imagine that there will not be only one person who will see it whenever they are used.
You can therefore measure the efficiency of this communication tool. And then that's not all …
Besides the notoriety that you can acquire, the bag is also an ideal product for convey your values! Is respect for the planet a subject that is close to your heart? Why not highlight your ethics through your customized bags made in an ecological way? Your customers will appreciate your approach and will also be able to identify your business better. It's all to your advantage!
What are these eco-friendly materials? Let's discover them together.
Choose material and format, get a 100% customized bag to your image!
Are you looking for a shopping bag in bio-based material (of plant-based)? Or rather biodegradable? If kraft is a material that is both bio-based, recyclable and biodegradable, not all subjects are ecological upstream and downstream.
Take the example of the PP bag now. Not bio-based, it still has advantages: it is reusable up to 10 years on average and 100% recyclable. With a carbon impact that is therefore limited, it also has a lower purchase price.
To help you choose the material that best suits your needs, we have analyzed upstream and downstream of each through the table below:

As for the size, nothing could be easier: we adapt to the needs and your purpose use!
We offer you :
You see, it is The 100% winning bet! You are curious to know what would look like your customized bag ? Contact us, our team will make your design without any commitment.