Forest Stewardship Council (FSC) is a non-governmental organization that was created in 1993, on the initiative of a group of companies and representatives of NGO and social rights. Its role: to promote sustainable management of global forests to meet the needs of current and future generations. How ? Thanks to the FSC certification that we will now discover.
There are three types of FSC labels:
FSC 100%: all the wood or fiber is coming from a FSC certified forest.
FSC Mixed: FSC wood and mixed fiber is made of the following: wood or recycled fiber, wood or blank fiber that comes from a FSC certified forest, wood or blank fiber controlled FSC
FSC Recycled: the product is 100% made from wood or recycled fiber. This label is mainly used for paper items.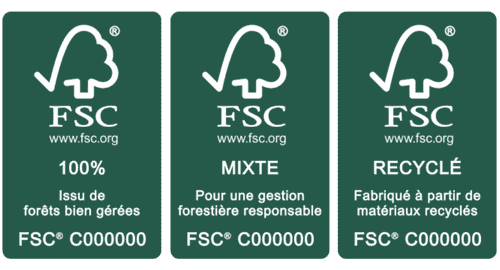 How to recognize a FSC compliant product?
To comply, the FSC label must contain some elements: the FSC logo, the title of the label (100%, mixed or recycled) and the FSC license number.
As an option: It is possible to find also: the address of the FSC International website, a typical mention as "derived from well-managed forests" for 100% FSC products, and finally the type of product.
Example : our round box for your salads and hot or cold dishes, FSC Mixed certified:
How to get the FSC label?
Are you a company or a forest manager and do you want to obtain FSC certification? For this, you will need to contact an accredited certifying body to pass an initial audit. Your certificate obtained will then be valid for 5 years and then controlled each year.
The FSC label is extremely demanding and relies on 10 principles:
Respect for the laws
the law of workers and working conditions
The right of indigenous peoples
Relations with communities
Profits generated by the forest
Environmental values ​​and impacts
Management planning
Monitoring and evaluation
The high preservation values
Implementation of management activities
FSC France can accompany you in your approach.
The FSC label is recognized around the world, it is a real pledge of confidence taking into account social and environmental issues. By certifying your FSC products, you put forward your ethical values ​​and reassure your consumers! This is an excellent CSR tool, also communication. Discover our FSC certifiable products on our online shop.
Source :